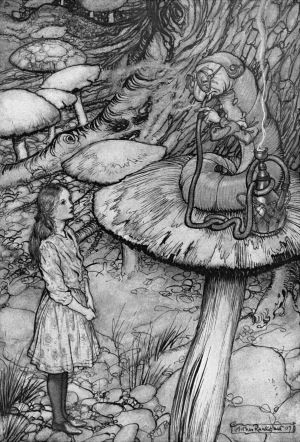 All the Alice and Wonderland stories i've read so far in suggested reading order.
So, to start at the very beginning we have a modern written prequel to the Carroll books:
Heartless — Marissa Meyer. Marissa imagines how the Queen of Hearts came to be the way she is, why the Hatter is Mad, and many other things besides. You can, of course, read this after the Carroll books; i just shoved it in here because this is where it technically fits in the story line. But no matter when you read it, it is very much worth reading if you're a fan of Wonderland.
And then it's into the 4 Carroll books:
Alice's Adventures Under Ground — Lewis Carroll. This was the original story that Alice had asked Charles Dodgson (aka Lewis Carroll) to write down after he told it to Alice and her sisters while boating one day. So Dodgson had it printed, illustrated and bound in Moroccan leather as a present to Alice. Reading the letters in the back of the book one can't help but wonder as to what Dodgson's motives were in giving her such an impressive gift while saying the things he says in the letters.
However, you don't really need to read that, as Carroll later publishes:
Alice's Adventures in Wonderland — Lewis Carroll. In which, other than a few changed words to make for better reading, is exactly the same but with lots more added to it. So if you do read Under Ground first, you'll find yourself skipping through lots of this book because you only just read it. So unless you want to have the full historical experience, i'd suggest just going straight to Wonderland.
Next up is:
Through the Looking-Glass — Lewis Carroll.
And to finalise Carroll's work on Alice and Wonderland:
The Hunting of the Snark an Agony, in Eight Fits — Lewis Carroll. No Alice in this book as Alice had grown tall and Dodgson had moved onto hunting another little girl named Gertrude. As i say in the review, i'd definitely recommend paying a few pennies for a better version than the one i read as the layout in that copy sucks, and this copy's layout just detracts from the poetry.
Now we leave Carroll's work behind and move onto more contemporary things, and more mature ones also. None of the following are for young children, they're more for late teens onwards – IMHO.
Anyways, if you've just finished reading Carroll's 3 or 4 books then i would suggest going straight into:
After Alice — Gregory Maguire. Gregory writes in a very Victorian style of prose which you should be well used to after Carroll's work. While a few have complained about Gregory's writing, i find it captivating, in that he really does the Vic Lit thing really, really well for a contemporary writer. But if you haven't read any Vic Lit for a while then you may find this book a little trying to read.
Then we jump ahead to Alice's later years, this being set a few years after Charles Dodgson's death:
The Clockwork Alice — DeAnna Knippling. Real Alice, all grown up, finds a way back to Wonderland but nothing is quite like she remembered it.
Then, once you've read all that, you can jump into the real contemporary stuff:
Alice — Christina Henry. This really is taking Alice way out of her original context. Brilliantly done though.
Christina then wrote a second book to follow on from that:
Red Queen — Christina Henry. This is more tending back towards the original context and very different to the first book. Christina does a wonderful take on Alice with these 2 books and they definitely deserve a well deserved space on any Alice fan's Kindle memory.
And then the final part of Christina's trilogy:
Looking Glass — Christina Henry. It's just been released and i haven't bought it yet.
And then, the last, and certainly the least, the books that attempt to pass themselves off as Alice and Wonderland but aren't:
Alice — Julia Crane. Woeful, just don't bother.
~ ~ ~ ~ ~ ~ ~ ~ ~ ~ ~ ~ ~ ~ ~ ~ ~ ~ ~ ~ ~ ~
And somewhere in "The Pile" waiting to be read and reviewed:
The Queen of Stilled Hearts — DeAnna Knippling.
The Knight of Shattered Dreams — DeAnna Knippling.
~ ~ ~ ~ ~ ~ ~ ~ ~ ~ ~ ~ ~ ~ ~ ~ ~ ~ ~ ~ ~ ~
And don't think it ends there; i will get around to finding some more Alice and Wonderland books in the future. Also, if you have any suggestions for Alice and Wonderland books that are available on Kindle then please contact me, i'd love to add them here.